PRODUCT INFORMATION
Click to enlarge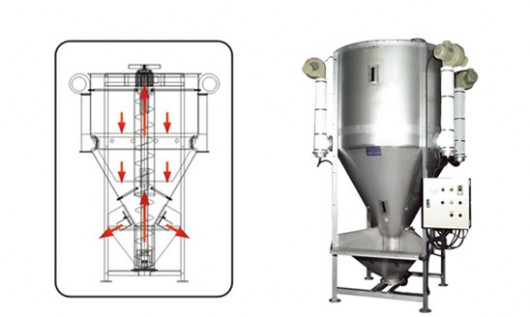 Vertical Hot Air Drying Mixer

Detailed Specifications / Description
Suitable for raw material mixing in similar size and proportion of granule
Suitable for material surface dewatering model
Suitable for drying equipment of water ring cutting, underwater pelletizing and plastic recycling in extrusion process
Various functions: Hot air drying, contact thermal conductivity drying and mixing
Dry mixing range: 500 ~ 2000kg (Customized design and manufacture are available)
Specification

Model
Feed-In
Capacity
(L/hr)
Dry
Mixing
Weight
HP
(Blower)
Electricity
Heat
Dimension(L×W×H)
TY-VDM500
830 L
500 kg
3HP
(1/2HP×2)
14Kw
1100 mm × 860 mm × 2100 mm
TY-VDM1000
1680 L
1000 kg
5HP(1/2HP×2)
or(1/2HP×4)
16Kw
(28Kw)
1280 mm × 990 mm × 2240 mm
TY-VDM1500
2500 L
1500 kg
5HP(1/2HP×2)
or(1/2HP×4)
16Kw
(28Kw)
1580 mm × 990 mm × 2400 mm
TY-VDM2000
3400 L
2000 kg
7.5HP (1/2HP×2)
or(1/2HP×4)
18Kw
(32Kw)
1600 mm × 1250 mm × 2400 mm

※ Specification and design are subject to change without prior notice. Please contact us if you have any question.
Quick Link
TSORNG YOW CO., LTD.
NO.13,Gongming 3rd Rd.,Tainan City 70968, Taiwan (R.O.C)
Tel :+886-6-246-4318
Fax:+886-6-246-2617
E-Mail:
tsorng.yow@gmail.com