PRODUCT INFORMATION
Click to enlarge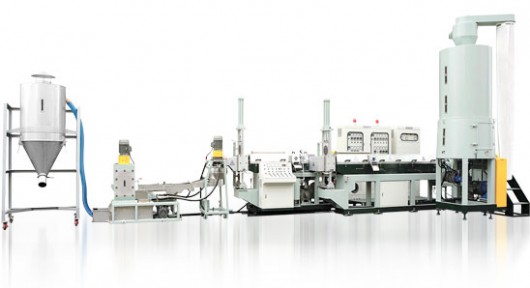 Eco-friendly Two-Step Die-Face Cutting Recycling Machine (Water Cooling)

Detailed Specifications / Description

Model: TY-LBW Series
Country of Origin: Taiwan
Applicable resin: PP, PE, ABS, PS, HIPS.
Specific resin: POM, PC, ACRYLIC
Capacity: 100 ~ 800 kg/hr
This model applied to recycle & plastic film and plastic lump, also for the pelletizing after equipment cleaning.
Die-face cutting is easy to operate, and not only saving the labor cost of pulling tape, but also the installed space.
Built-in melt pressure sensor for filter screen replacement reminder to prevent related equipment damage from excessive pressure.
Two sets of vent improve the discharge and evaporation of liquid in barrel in speedy pace.
Secondary machine built-in vacuum degassing device is capable of removing plastic powder mixed gas, steam and volatile matter, and improving plastic material quality. (As optional equipment for host)
Side Forcing Feeding method contributes to incoming material stabilization, and , productivity improvement.
It is unnecessary to stop the machine during replacing the filter hydraulic screen changer.
Plastic pellet feeding hopper and Color Masterbatch feeding hopper are as optional equipments for simple mixing dyeing effect.



※ Customized machinery design is available. Please contact us for more information.
Quick Link
TSORNG YOW CO., LTD.
NO.13,Gongming 3rd Rd.,Tainan City 70968, Taiwan (R.O.C)
Tel :+886-6-246-4318
Fax:+886-6-246-2617
E-Mail:
tsorng.yow@gmail.com